Andrianne Philippou. Journalist. 2010.
'A constant exploration'
Article from the 'FACE' (The Cyprus Weekly) by Andrianne Philippou written about the exhibition 'Apollo's Eye' at the Three5Contemporary gallery, Limassol, Cyprus.
The internationally acclaimed British artist has brought an exhibition of abstract landscapes exploring the elemental journey of life through a dramatic series of oils and watercolours.
Art chooses you, you don't choose art…"so says internationally acclaimed UK artist, Adrian Hemming. He is here in Limassol for the opening of his first ever Cyprus exhibition which premiers today, Friday, at Three5Contemporary, a new gallery situated deep in the artistic quarter of the Old Town. Intriguingly titled 'Apollo's Eye', it seems the gods are pleased enough with Hemming's work to have allowed him to escape the volcanic ash clouds and depart from London this week, just hours before most UK flights were suspended.
Hemming came to art relatively late in life, although as he put it, "I seem to have been painting for most of my life"; after leaving school to begin a somewhat incongruous five-year apprenticeship as an engineer, despite his natural artistic talent "I was always the best at drawing horses!", it took him a while to realise that engineering was not for him. This defining moment meant by the time he got to art school he was a mature student. Not that this detracted from his passion. His early interest in figure paintings (and horses), has evolved throughout the last 20 or so years, to become more focused on an exploration of and fascination with landscapes. But Hemming's standing as a renowned 'abstract landscape artist' (he's been short listed twice for the Artist in Residence role at London's National Gallery) is not quite as it would appear. "When I think about, look at and paint landscape, it's very important to me to look at it….not as a pretty view, but with many more levels… for me the paintings themselves are like a journey through the landscape".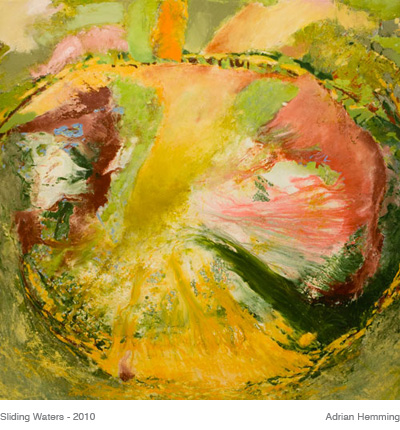 Inspired by a pond in Jersey, a "green island in the grey-green English Channel", Apollo's Eye is an exhibition of abstract landscapes exploring the elemental journey of life through a dramatic series of oils and water colours; drawing on ancient philosophies and interpretations of science and myth, his landscapes are not geographical or topographical representations of easily recognisable places or images. Instead, his paintings are deeply personal illuminations, full of colour, image, movement and passion. For art critic Robert Snell, Hemming's pond is a 'microcosm, a universe in microscopic miniature, a primal evolutionary soup…' and far from being 'distancing or abstract' as much abstract art can be, Snell insists Hemming's work invites spectators to 'get involved'.
It's impossible not to respond or be 'drawn into' Hemming's work. His use of colour is "mad and bold, colours …carry the energy of the paintings and they also carry the emotions of the painting as well…by use of…colour you engage the spectator and drag the onlooker into the painting." Colour for Hemming has no bearing on what the actual landscape may be; his exploration of the landscapes goes beyond just merely looking at a scene or vista. "Landscape for me is very different… a whole pot-pourri of where the artist strides through the land…for me, it begins with something, a scene… an image… that's where the journey starts… and it could take anything from a few weeks to a few years".
Hemming is brutal in his self-criticism "I'm really grumpy when I'm painting; I'm extremely self centred and focused… nothing else seems to matter… it's a very lonely process". He admits to often working on several paintings simultaneously, but never feels completely satisfied with his work. "No matter how much you throw down your brushes in disgust and walk away, you're drawn back to it like a moth to a flame…as soon as you finish a painting, you're completely dissatisfied…you want to start again and make the next one even better…it's a constant exploration…".
For Hemming there is a sense that the painting process is almost like being in psychoanalysis"…it's like the cycle of Gestalt … most artists wrestle with that… there are these deep layers of one's unconscious you constantly try to understand…to take your work further… both deeply satisfying and deeply disturbing at the same time". But you always know when the process is complete; according to Hemming "there's a blinding moment when the painting just cries out 'Stop! Stop!' If it's such a profoundly complex experience, I asked Hemming if he'd ever considered giving up his art to try something else? "My secret passion …(and I'm the worst musician in the world!) is I always wanted to be a pianist…" Fortunately for art lovers everywhere, he decided against a musical career!
This is only his second visit to Limassol, and whilst Hemming is not yet familiar with Cyprus or the artistic audience, 'Apollo's Eye' will expose him to, he is very much looking forward to discovering the 'landscape of the island' and its people. Just before every exhibition, Hemming reveals he always feels a sense of nervousness tinged with excitement. "I suppose because painting ... is so personal, you expect to get nervous because you're so exposed…"
He is thrilled and honoured to have been invited to exhibit his work here and believes the passion of gallery Director Monica Brenninkmeijer and her team, to develop international artists through Three5Contemporary Gallery, is one that will benefit both artists and audiences worldwide.
Apollo's Eye will be on view at Three5-Contemporary Gallery, Limossol, Cyprus.
from May 21 –June 18. 2010
For further information and news email: info@three5contemporary.com, Tel: +357 25 3426