Latest News
2014 ended with an almighty bang
It started by being invited to exhibit in the Royal Academy Summer Show. The committee chose 'Cracks on the Water' one of the four paintings comprising the Apollo's Eye series which had previously been shown at the 3 Five Gallery, Cyprus and Vyner St Gallery, London. This resulted in all four subsequently being sold which was very gratifying.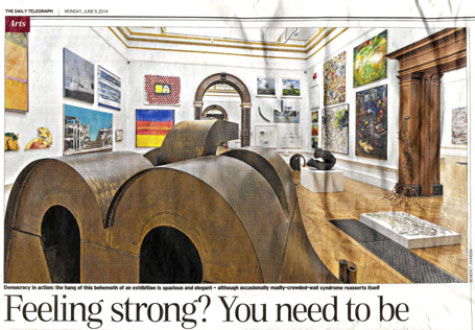 'Cracks on the Water' Gallery 4. (Top right, green painting). This photograph and article appeared in the Daily Telegraph.
However this event was eclipsed by University of California, Los Angeles, UCLA. flying me out to their Los Angeles campus for two significant events.
Firstly, the Inauguration of the John Muir Chair, Dept. of Geography. This is currently held by Professor Glen M. MacDonald and as part of this event a major symposium was organized in which various speakers were invited to give their thoughts and discuss the ongoing geographical problems that beset the South West States of America.
Secondly, the unveiling of my 6mt wide diptych 'American Monumental'. The piece was influenced by many trips over many years to the desert states of South West America. The painting is also a memorial piece dedicated to the memory of the late Professor Denis Cosgrove, an influential friend and colleague whom I collaborated with on numerous occasions.
Professor Glen M. MacDonald. UCLA. John Muir Memorial Chair: writes:
As it happens as of July 1, 2014 I was elected to the John Muir Chair here in Geography. As part of this I am renovating a space at the heart of the Department dedicated to the study of the North American West. It has the wall space and sightlines to display American Monumental as the focal point of the center.
I want to use your powerful painting as one of the visual icons of the Muir Centre.

'American Monumental' (diptych)
I'm deeply moved by the response of the university to my work and very honored by the unique location that they have created within the Geography Department specifically for my painting.
Adrian Hemming